Looking for the best gifts for surfers? This surf gift guide has something for every style, taste and of course – budget!
Xmas, birthdays, valentines day or just because – gifts for surfers can be a nightmare to find, especially if you're not a surfer yourself!
So to help you out – whatever the occasion – here are a whole heap of gift ideas for the surfer in your life, from big ticket splurges to simple stocking fillers…
Full disclosure – there are some affiliate links on here, but they're there to help you easily find and buy your gifts!
The Best Gifts For Surfers That They'll Actually Be Stoked For!
**Big Ticket Gifts For Surfers**
Epic surf gifts for the someone who is super special or you really want to spoil!
Apple Watch
Every surfer loves bragging about their session – I got XXX amount of waves, I totally had the longest wave of my life, OMG I got heaps of waves today!
Well surf watches are a great way to help the surfer in your life keep track of the tides, surf report and even track their own surf session via apps like Dawn Patrol.
For me the Apple Watch is the best surf watch out there – and of course it doubles up as a day to day smartwatch too.
So if you're looking for the gift that they'll use daily in and out of the waves the Apple Watch is an epic gift they'll be heaps stoked on – with the Apple Watch Series 7 and Apple Watch SE being my top picks, although the Series 3 still remains a more budget friendly option too!
Or if you want to go all out and really treat them, then the Weret Surf Watch is a full luxury ticket item – combining all the style and class of a statement, analog watch with all the smartwatch features your surfer will love – including tide, surf report and wind conditions.
GoPro
The GoPro Hero 9 and GoPro Hero 10 are the pick of the bunch for adventure enthusiast everywhere with their awesome in camera image stabilisation and rugged build. The GoPro is the original surfer selfie camera and
And of course if you want some extra stocking stuffers or gift ideas there are heaps of GoPro accessories you can include as well.
…also worth checking out is the Osmo Action too, which is slightly more budget friendly and still boasts heaps of stabilisation and specs.
Check out my full review of the GoPro Hero 10 here
Drone
It's not for every surfer, but if your surfer is into photography and videography then they'll be stoked on owning a drone!
For me the Mavic Air 2 is my drone of choice – lightweight, portable and shoots 4K and 2.7K at 60FPS.
If they've never flown a drone before and are getting into it then the new Mavic Mini is also an incredible option – super lightweight and one of the best value for money drones on the market
Wetsuit
Ah the good old wetsuit – a staple for most surfers around the globe, whether its a 5mm steamer in the UK, a spring suit in Aussie winter or even a thermal rashie for those windier days in tropical climates.
Personally I absolutely love chest zip, Ripcurl wetsuits, but honestly it's probably best to stick with the same brand of wettie they're currently using…unless they've been moaning about it of course!
If they're not worried about rocking the latest years model then Wetsuit Outlet is well worth checking out for some serious bargains (and awesome returns policies!) and Need Essentials is another greta option for those not worried about big brand labels.
Noise Cancelling Headphones
These might seem like a slight curve ball, but if the surfer in your life loves travelling on the hunt for waves (and lets face it, what surfers don't?!) then they'll be stoked with a set of noise cancelling headphones!
Long haul flights and bus rides will become a breeze and it's the perfect way to drown out that screaming baby in the next aisle on your 12 hour flight to Indo!
My pick has to be the Sennheiser PXC 550 II noise cancelling headphones. Having upgraded from the originals (which lasted me over 3 years of continuous travel before I finally managed to break them) they're my go to headphones for travel.
Half of the time I'm wearing them in the airport I'm not even listening to music – I just turn on the noise cancelling function and chill out in my own little bubble of tranquility!
A Brand New Board!
It's the dream gift every surfer wishes the special person in his life would get him – a brand new board! Seriously if my girlfriend ever bought me a new board for my birthday/xmas/at any point I'd probably marry her!
So if you're really looking to go all out with the best gift for surfers this is the one to pick!
HOWEVER approach it carefully as it's an incredibly personal thing and you don't want to smash your cash on the wrong board, listen carefully or better still take them on a surprise trip to a surf shop and get them to pick!
That being said something like the Firewire Seaside or the Firewire Dominator 2 (my current board of choice), or even the Fire would go down a treat…but maybe keep the receipt just in case!
Or A Softboard
If they're not in need of a fully fledged new board, then every surfer has a spot in their quiver for a softboard or foamie surfboard!
Ideal for smaller summer days and fun sessions with friends and family – a decent softboard will always go down a treat! Personally I recommend the Mick Fanning Softboard range as you can whack in your usual surfboard fins for an extra boost in performance.
A Surf Trip!
On par with a new board is an all out surf trip or surf holiday! Whether that's a cheeky weekend away at the coast or their dream surf trip to the Mentawais there are plenty of options and this one will certainly go down a treat!
Or on your next holiday why not treat them to a luxury surf hotel – a great option if you don't surf and fancy some indulgence at the same time! Check out the open dated options so they can slot their trip in when suits them.
If you like this idea, but don't like the price tag you could also opt to get them a Surfer Gift Card to put towards their next surf trip too, which is also an epic option!
**Mid Range Gifts For Surfers**
Mid priced surf gifts ideal for close friends and family
Polarised Sunnies
Surfers and sunshine go hand in hand, but we're also rubbish with sunnies! So grab them a good pair, and more importantly a POLARISED pair to really bump up the protection.
Cab 9 Eyewear have an epic range of affordable styles which I've tried and tested around the globe and again Palm Bay Bali come up trumps with their Kandui sunnies which I've been wearing for the last few months.
New Fins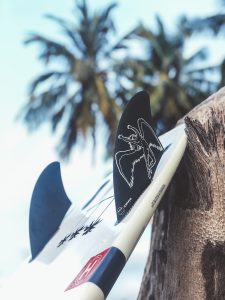 Fins are a surfers favourite accessory but much like a surf board it's all about paying attention and making sure you get the right one. Not all surfboards are the same and not all the fins perform the same either.
The crew at Palm Bay Bali have an epic range of awesome fins that not only perform and look great but they're pretty easy on the wallet too as far as fins are concerned!
If you're not sure take a pic of their current fin setup and take it into the surf shop with you and ask for some advice!
Surf Coaching Course
Every surfer wants to surf better – bigger turns, more speed, getting tubed, it's an endless cycle of practice and learning. So why not get them their own personal surf coach so they can improve and push their skills to the next level?
Online surf coaching programmes like The Art Of Surfing allow you to learn from the comfort of your surfing, build muscles memory and train up for your next in water sessions.
Good fun, helpful and a great way to improve your surfing, a subscription to one of these will always go down a treat.
Surf Hat
Another epic surfer gift for those in the tropics (or planning a surf trip!) is a surf hat.
Being out in the blazing sun for hours at a time can totally cook you, and even if you're plastering yourself with suncream and zinc it's still not going to protect the top of your head.
So a surf hat is always a solid investment.
A lot of surf hats out there look…well…pretty boring! Kaiola have created a surf hat that comes in a range of colours options so you can pick the best look for your surfer.
The Kaiola range comes with a glare reducing peak and also has an almost invisible chin strap – so as well as looking good, it's super practical as well.
They're tested to UPF80 too, so the bottom line is they look great, stay on your head and offer epic protection from the sun – a winning combo!
Plus you can grab 10% off using the code StokedForTravel10
Boardies/Bikini
Everyone loves a good boardie/bikini session – so a new set is always going to go down well!
Brands like OY Bikini have an awesome range of Bali inspired goodness for the ladies but personally I'm a huge fan of the Ripcurl Mirage range.
…but there are literally thousands of awesome boardies and bikinis to choose from so go nuts!
Changing Poncho
Another awesome gift for surfers, especially those in colder climates! Essentially it's a big poncho towel so you can get changed in the car park without flashing everyone!
Brads like Ho! Steve are great for the budget option whereas DryRobe offer a premium and weatherproof option for ultimate warmth
A New Leash
It's one of those things surfers need but hate spending money on – making it one of the most useful gifts for surfers!
You're going to want to grab a leash the same size as their board or as close to the length as you can as they come in 5, 6, 7, 8 and 9 foot options. Best to round up/down to the closest foot when choosing.
Personally I'd recommend the leashes from Palm Bay Bali (they can deliver internationally) or if you can't get one of those Creatures of Leisure do some amazing leashes too, and if they're good enough for Mick Fanning that says a lot!
Ear Plugs
No surfer wants to experience surfers ear, but we're all too lazy and skint to invest in a good set of ear plugs!
So keep the surfer in your life nice and healthy with a pair of surf earplugs.
From my personal experience SurfEars are one of the best options on the market and are tried and tested. They come in blue or orange and are super useful for any surfer – warm or cold water!
Surfboard Wall Mount
Does your surfer absolutely love their surfboard? Would they curl up kin bed with it if they could?!
Well how about grabbing them a surfboard wall mount so they can easily show off their pride and joy without cluttering up the house or annoying their spouse!
RSPro – Waxless Traction
If your surfer really wants to go eco friendly or is constantly moaning about not having any surf wax, or wishing they didn't have to wax their board then the waxes grip from RSPro is well worth checking out and I've been riding my board with it for the last 6 months.
I'd float the idea past them (maybe in a "oh have you seen this" way!) as it won't be for everyone as some surfer swear by surf wax!
**Stocking Filler Gifts For Surfers**
Surfing essentials and budget friendly surf gifts
Dry Bag
Keep dry stuff dry or keep wet stuff contained – a dry bag is an epic gift for any surfer! They don't have to be expensive either and you can grab a 15 litre one (which is the ideal size for day trips) for pretty cheap.
Perfect for boat trips to surf breaks or keeping your valuables sand and water free on any beach.
Ding Repair Kit
As much as we try not to, everyones surfboards are going to get dinged up, especially if you're heading out on a surf trip!
Ding repair kits are pretty cheap and always a welcome addition to any surfers gear bag. Solarez has long been the go to for most surfers (including myself) as it's super easy and quick to use – the spooky option works on all boards so its the safest bet!
Zinc
Save your surfer from the sun (unless you really dig the saggy old wrinkly look!) with some surfer zinc for their next sunny session.
For me it's all about Sun and Earth Zinc. Hand made in Byron Bay, reef safe, eco friendly and all natural ingredients!
Water Bottle
Time to hydrate! An insulated water bottle is a good investment for anyone (not just surfers!) but being able to come out from a surf to a hot cup of tea or an iced cold drink is always a winner.
There are plenty of styles and colours to choose from too so find the best match for your surfer!
Surf Map
Let your surfer dream of tropical waves, get some inspiration for the next trip or tick off the epic spots they've already surfed with a giant surf map!
With spots from all over the world it's bound to get them super stoked.
Gift Vouchers
Not quite sure what to get them, despite all the awesome ideas on this list? Well how about a trusty Surfer Gift Voucher?
This way they can put it towards their next epic surf trip, learn to surf or even become a surf instructor!
Starting at just £25 it's a great budget option for those surfers who are really hard to buy for! And with a lifetime validity and combinable with other gift vouchers this is the ideal option when you get stuck for ideas or need something last minute!
Surf Wax
Surf wax is one of the best gifts for surfers – you'll never go wrong with buying a surfer more wax (unless they fancy the RSPro stuff I've already mentioned!) and it's a great budget stocking stuffer.
One of the most popular options is Sex Wax (not as naughty as it sounds) and they come in a range of temperatures so make sure you grab the right one for the water they're surfing in. All else fails grab the Blue Base coat option.
However – I personally use Sticky Honey Surf Wax – which is eco friendly and made from organic beeswax. If you can get an eco friendly option I'd highly recommed going for that instead.
Reusable Coffee Cup
Do they coffee/tea/hot drinks? Well grab them a reusable coffee cup to help save the environment whilst they enjoy their favourite pre/post surf beverage.
Not just one of the best gifts for surfers – a solid choice for anyone really!
It's an easy win!
Changing Mat
Wet, sandy cars are never fun, neither is a wetsuit full of gravel from the car park or sand when you go for a paddle out a few hours later!
A surf changing mat contains the chaos and keeps your wettie as sand free as possible – a great gift for surfers for home or distant surf trips.
Which of the above gifts for surfers are you going with?
Or anything else you'd add to the list?