Looking for a new board and tempted by the Firewire Seaside by Rob Machado? Here's my thoughts on the latest board in my quiver…
The Firewire Seaside was one of the top selling boards of 2019 – and for good reason.
As the follow up to the hugely popular Firewire Go Fish, Rob Machados latest shape for Firewire surfboards takes all the fun and float, combining it with a custom quad setup and refined rails to create a board that looks great, paddles great and performs even better than its predecessor.
And having given it a solid blast in Australia, an epic surf trip to the Solomon Islands and even the Bristol wave pool, here's why the Firewire Seaside is my new favourite board…
Firewire Seaside – My New Favourite Board?
What I Was Looking For
So how did I end up with the Seaside?
First things first this is NOT a beginner surfboard! If you're just starting out check out this guide for the best boards for you!
Well I was on the hunt for a fish surfboard, needed something with plenty of volume to cover a range of waves types and I was also pretty set on getting another Firewire as they've more than proved themselves as well built and strong boards to travel with.
Initially I was looking at both the Firewire Seaside and also the Go Fish – but in the end the Seaside won out.
But more about that comparison further on…
What Size Should You Go With?
From all the research I did on the Seaside the advice was to go slightly shorter than your current shortboard.
However for me I tend to look more at volume now.
My 5'11 board which I was looking at replacing was 38 litres and my 5'5 is 33 litres – so I wanted something to slot somewhere in between.
Just to clear things up I'm 6 foot and roughly 80kg stone in weight.
With that in mind I opted for the 5'8 Seaside. It comes in at 35.4 litres and has proved to be near enough perfect. It has plenty of float (something I prefer in a board, especially for the range of waves I surf), yet super maneuverable and most importunely is both short enough and light enough to easily travel with.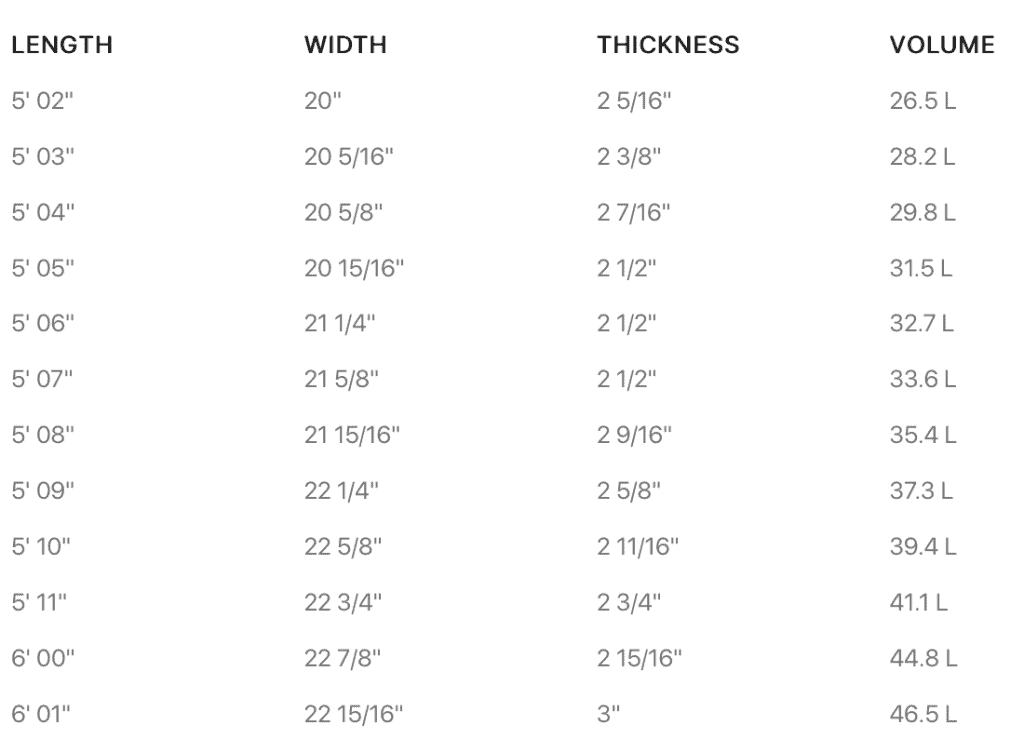 What's It Like To Surf?
You may have noticed that I've strayed away from talking about all the technical aspects of the Seaside like dimensions and channels and all that stuff.
That's because I wanted to focus on how the Firewire Seaside feels to an average surfer – which is what it all ultimately boils down to right?
The extra volume, especially under the chest, make it really easy to paddle and although the slightly shorter length should limit the glide against a longer board the placement of that extra foam does a great job of compensating for this.
So in that respect expect to keep your wave count high.
Despite this its still actually really easy to duck dive the Seaside, again another huge plus.
Once you're up and riding the quad setup does its job slingshotting you down the line and the extra grip on the wave also means it handles really well on late drops. This allows you to make it around sections relatively easy – so you can actually sit a lot deeper than you might expect.
Along with this speed it handles the flat sections really well to and the helium construction (as with most Firewire and epoxy boards in general) can also get you through some choppy bits a well.
Put this thing on a rail and you'll be generating some really solid spray and drawing out some really clean, fun lines too – after all its a board designed to Machados style of surfing.
I love the way the Seaside handles and I was instantly hooked.
Most importantly from an all round side of things – it handles a huge variety of surf – from waist high to well overhead.
Lets Get Technical
If you want to get technical about the elements that make the Fire Seaside such a joy to ride it really comes down to two things – volume distribution and the double concave.
Volume wise it's easy to see that a large chunk of the foam is in the top third of the board – with plenty under the chest and running through to the nose. This is what makes it easy to paddle and also pretty forgiving too. It also means you can ride the Seaside a bit shorter than your standard shortboard, and what will help taller, heavier surfers love it too.
Performance wise the drive and speed of the Seaside is largely due to the double concave construction. These are pretty aggressive and run from midway down the board right through to the tail – channeling all the water through the quad fin setup.
The result is a lot of speed and drive.
Combine this with the fact the the volume of the board tapers down into a pretty thin fish tail setup and you've also got yourself a setup that can handle some serious performance once you start pivoting off your back foot and throwing your weight around.
The result – as I've touched on throughout the review – is a great all round shape which is forgiving enough for the average surfer whilst still retaining the performance and drive that higher end surfers will be looking for.
An absolute winner really!
Machado Quad Setup
I absolutely love riding quad fin setups (in fact my whole quiver is quads, with the exception of my 5'11 Chumlee which I now ride with Palm Bay Bali Zephyr keels) so jumping onto the Seaside was a pretty easy transition.
The Firewire Seaside does have a custom set of Machado quad fins (sold separately of course!) which are specifically designed for the board.
I actually picked my setup up second hand, with the fins so that's all I've been riding it with and to be honest it does work perfectly so I've had no reason to play around with the setup either!
That being said I'm going to whack in a set of standard quads soon and give it a blast just to see how it goes – but for the moment I can't argue that the Machado fin setup handles incredibly and I wouldn't hesitate to recommend grabbing a set with your board, especially if you dont already have a quad setup.
If you want to grab a similar set, Project Blank do an epic set of split keel quads (with a very similar template) and you can grab 10% off using the code STOKEDFORTRAVEL!
Seaside v Chumlee & Go Fish
Ok so I must admit that I only recently wrote about how the Firewire Chumlee was my perfect surfboard for travel – so what changed?
Well I still have a Chumlee in my board bag – but after testing out my buddies fish in Indo last year I started toying with different surfboards shapes and the idea of getting something a bit different in my quiver and a fish setup seemed to tick all the boxes.
Basically it boiled down to wanting to replace my 5'11 Chumlee (something I've previously talked about) as it was a little bit too similar to the 5'5 and with the progression of my surfing now felt like way too much volume.
I wanted something with a bit of volume (for smaller, more playful days) but also something that felt different to the Chumlee and with much more performance.
Initially I was checking out the Go Fish, but after seeing them both in the shop I was a bit put off on the Go Fish actually, despite all the rave reviews. The tail was super thin and the fact I'd be limited to a keel fin setup made me less willing to take the chance.
And from a travel perspective that thin tail looked like a prime target for some ruthless baggage handlers!
The Seaside on the other hand still gave me the option to smash in some keels (I'm still yet to do it though!) and the shape and dimensions just looked a lot more like the board I had envisioned in my mind – with plenty of volume through the chest – whilst still retaining that trademark fish outline.
In terms of how the Seaside handles v the Chumlee – the fish tail v the rounded tail definitely sends up heaps more spray and it the rails certainly hold a lot better, which is great for punchier surf and steeper drops.
My turns have certainly got a lot sharper on the Seaside too.
Overall though the Seaside can certainly handle steeper, bigger surf than the Chumlee and the rails certainly make it feel a lot more solid under my feet when it does jack up.
Seaside or Seaside and Beyond?
The other board that's since been thrown into the mix is the Seaside and Beyond – a stretched out mid length version of the original, coming in 6'8, 7'0 and 7'4 models.
Having tested that out I'm stoked to say it takes all the fun and speed of the original Seaside, but opens it up to a larger variety fo surfers and also waves too. It'll run really nicely in waist high waves and also feels solid under foot in bigger stuff too – including well overhead and barrelling.
The extra length offers a lot more paddle power, meaning those transitioning from beginner to intermediate will keep plenty of foam under them but also heaps of turning ability too.
And for experienced surfers – well it's just heaps of fun and a great addition to any quiver!
Check out my full review of the Seaside and Beyond here
The Quiver Killer?
The term "quiver killer" has been chucked around a lot recently by surfboard companies – desperate to convince you that there's one board to rule them all.
Having surfed the Firewire Seaside for the last few months I can happily say that if push came to shove that would be the only board I'd take with me on my next surf trip, confidently knowing it could handle pretty much everything I could throw at it.
Although admittedly I have now also added the Firewire Dominator 2 to my quiver as well, which is a great addition alongside the Seaside too, or even an alternative – another contender for the title of quiver killer!
The Puddle Jumper HP is also another board which would sit nicely alongside the Seaside in your quiver as well, especially if you want plenty of turning ability in smaller surf, up to around head high.
So if you're on the hunt for a new board, want to consolidate your quiver or are looking for that singular board that can handle almost everything from beach break slop to reeling reefs – well the Firewire Seaside could well be what you're looking for.
Also – if you're loving the looking of the Seaside, check out the new Firewire Mashup, which might be another epic option to consider!
For more info and the full specs check out the official Firewire website here
Have your tested out the Firewire Seaside?
What are your thoughts?