Planning a Maldives surf trip? Find your perfect fit – inc surf resorts, surf charters & local islands – something for all styles and budgets
If you're planning a Maldives surf trip, you'll quickly realise that there a whole heap of options to choose from and the range in prices is just as varied!
So to help you plan your perfect tropical escape here's my guide to all things Maldives surfing – including the best Maldives Surf resorts, Maldives surf charters and local island stays – so you can find the best fit for you…
Planning A Maldives Surf Trip – Which Is BEST Option For YOU?
Maldives Surf Resorts
When it comes to a luxury Maldives surf trip, the range of epic Maldives surf resorts are top of the bucket list. So which one of these options is going to suit your style and budget best?
Resorts With Private Surf Breaks
Cinnamon Dhonveli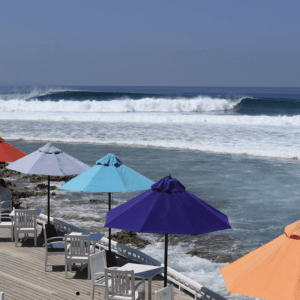 One of my personal favourites, Cinnamon Dhonveli is home to Pasta Point – one of the most famous and exclusive surf spots in the Maldives.
This reeling left hander can only be surfed by people booked onto a surfer package at the island, with a limited surfer allocation of 30.
Click here for more info and to book
Holiday Inn Kandooma
A great value resort, Holiday Inn is home of Kandooma Right, the resort exclusive surf break.
This fast, reeling right hander hosts a max of 40 surfers and is an easy paddle out from the resort – with many of the overwater bungalows overlooking it.
Click here for more info and to book

Niyama Private Islands
Another epic option for goofy footers – Niyama Private Islands is home to Vodi, a pretty epic left hander that 3 x world champion Gabriel Medina often uses as a pre-season training ground. Although there isn't a cap on the number of surfers, it is exclusive for the islands guests and crowds are rare.
Click here for more info and to book
Adaaran Hudhuranfushi
Home of Lohis, Adaaran Hudhuranfushi has this reeling left hander an easy paddle out off the island, as well as being in short boating distance of many other awesome surf spots too.
Capped at 40 surfers max, Lohis is yet another goofy footed dream!
Click here for more info and to book
Best Resorts For A Variety Of Surf Spots
Cinnamon Dhonveli
If you're looking for a Maldives surf resort with access to a whole array of spots, Cinnamon Dhonveli is my top pick. The surf packages here include transfers to all the breaks surrounding the island – which includes the likes of Sultans, Honkys, Jailbreaks, Cokes, Chickens and Ninjas.
With that many spots to choose from, and with Pasta right on your doorstep, there's something for very swell, skill level and preference.
Kuda Villingili
Kuda Villingili also sits right amongst the best surf spots in the North Male Atoll, with Chickens an easy paddle from the resort and Cokes sitting right across the channel.
Sultans, Honkys and Jails are all within a short boat ride too, although surf transfers aren't included in your stay.
Click here for more info and to book
Ayada Maldives
Although Ayada Maldives doesn't have a surf break directly off the island, there are a huge variety of surf spots all within a short boat ride. With the closest being just 10 minutes away.
From draining barrels at Five Islands and Beacons through to long, carveable walls at the likes of Two Ways, Blue Bowls and Love Charms – Ayada is nestled in amongst some super fun, uncrowded waves.
Click here for more info and to book
Best Resorts For Luxury
Niyama Private Islands
The location of Niyama – down in the Dhaalu Atoll – also means there are far less surfers in the area, so you can almost guarantee there won't be a crowd in the lineup when you paddle out.
Kuda Villingili
As one of the newest Maldives resorts (it opened in June 2021!) Kuda Villingili offers full 5* luxury and even has the largest swimming pool in the Maldives! Choose from a huge variety of room options, all boasting epic sea views and their signature Overwater Bungalows are the height of Maldives luxury.
Plus having Chickens (one of my personal favourite ones!) an easy paddle off the resort is a huge bonus!
Four Seasons
As you'd expect from the Four Seasons brand, their Maldives resort comes with all the luxurious touches you could imagine. Incredible rooms, dining and customer service, the Four Season is always a solid choice for luxury living.
The only downside is the lack of surf break at the actual resort, and the cost of surf transfers can mount up quickly.
Click here for more info and to book
Six Senses Laamu
Situated down in Laamu Atoll, Six Senses eco signature style is perfect for those looking to kick back in some barefoot luxury.
With a fun house reef and spots like Yin Yangs just a short boat ride away it's another great option for those wanting 5* accomodation and waves.
Click here for more info and to book
Anantara Dhigu and Anantara Veli
Situated in the South Male Atoll, Veli and Dhigu both come back with all the luxury you'd expect from the Anantara brand and both island share a variety of restaurants and facilities.
Although not a surf specific resort, Anantara Veli has a fast, punchy right hander off it and both offer surf transfer to a variety of surrounding breaks, as well as the North Male Atoll favourites too.
Anantara Veli is also an adults only island for those looking for a more mature clientele.
Click here for more info and to book
Best Resort Options For Families
Holiday Inn Kandooma
Out of all the Maldives surf resort on the list, Holiday Inn Kandooma is the best fit for families. The close proximity to the airport, kids club and resort facilities always make it a good choice for surfer travelling with their kids.
Niyama
Alongside the luxury side of Niyama – also comes the included kids clubs offering a huge range of activities for the little ones, so it's a great place to head if you're travelling with your family. Although the overall vibe of the resort isn't as child friendly as Kandooma, it's still a solid choice.
Most Budget Friendly Resorts
Holiday Inn Kandooma
Out of all the options on the list, the Kandooma surf packages offer the best value and starts at US$1,270pp for a 5 night stay.
This is based on two sharing and includes return airport transfers, all meals as well as surf guiding and transfers. Non surfers get a discounted rate too.
Cinnamon Dhonveli
Although not the cheapest option on the list, Pasta Point can offer some solid value for money, especially if you get in with the earlybird booking rates, which cut off in jan for the upcoming season.
Their surf packages are all inclusive as well – with airport transfers, all meals, access to Pasta Point and daily surf guiding and transfers to most of the North Male Atoll breaks (inc Honkys, Sultans, Jailbreaks, Cokes and Chickens) the only extra you'd need to add on would be booze.
5 nights in a Garden Villa starts from $2,448 per person – based on 3 sharing. Non surfers get a discount too and off season from Nov to Feb is also slightly cheaper as well.
Best Resort For Uncrowded Waves
Ayada
Down in the Southern Atolls, Ayada Maldives is a perfect option for those looking to get more of the beaten track and score uncrowded waves and is certainly our teams pick for those looking to score empty lineups.
Surf transfers are around US$130 per person, per transfer. Pre booking before you arrive will save you 25% too.
Niyama Private Islands
Again, down in the Southern Atolls, Niyama offers some seriously uncrowded goodness when it comes to waves.
If you want to venture away from the pumping lefts of Vodi, you're sure to score even less in the lineup too – just expect to pay around US$150 per person, per transfer to the surrounding breaks.
Maldives Surf Charters
If you're looking for a more off the beaten track experience, want to chase the swell, or have a group of mates in tow then a Maldives surf charter is a great option to add into the mix. Here are some of the best options out there for all styles and budgets.
Best Surf Charters For Luxury
Carpe Vita & Carpe Diem
Carpe Diem and Carpe Vita are two of the most popular, luxury Maldives surf charters, both catering for up to 12 guests. With an experienced crew, surf guides and all the luxury you'd expect from a high end surf charter, they're ideal for a group trip chasing the best waves the Atolls have to offer.
Click here for more info and to book
Over Reef
For small group luxury Over Reef is hard to beat. This stylish and ultra luxurious charter isn't surf specific, but their crew and guides will certainly help you chase the waves in style. Mainly based in the Male Atolls, it sleeps 6 across 3 double cabins and has flexible travel dates too.
Click here for more info and to book
Best Surf Charters For Flexible Dates
Blue Star
With no fixed start or finish dates, Blue Star is an awesome option for those looking flexible start dates or whose flights don't match up with any fixed date departures. Based in the North and South Malé Atolls for most of the season, Blue Stars packages include airport pickups and you'll be transferred to where the boat is moored up for that day.
Click here for more info and to book
Over Reef
If you want to treat yourself to a flexible date itinerary then Over Reef is an epic option to check out. Available for private charter with flexible start dates it sleep up to 6 across 3 double cabins.
Choose your itinerary and chase the swell – complete with onboard private chef, Over Reef is a stunning choice for you surf trip!
Best Surf Charters For Solo Surfers
Horizon 2
If you're looking to get a bit off the beaten track and explore some less crowded spots, Horizon 2 takes in some of the best breaks of the Southern Atolls and you can book single spots rather than needing a small group.
There is a minimum number needed for the trip to run – but 99% of start dates end up being confirmed so it's a solid bet for solo travellers.
Click here for more info and to book
Blue Star
With it's flexible itinerary Blue Star is another solid shout for solo travellers and you can choose from shared cabins or pay a little extra to upgrade to a private room.
Best Surf Charters For Private Trips
Carpe Vita & Carpe Diem
Two of the most reknowned Maldives surf charters – Carpe Vita and Carpe Diem come kitted out with everything you need for a truly memorable Maldives surf trip and Carpe Vita even has it's own hot tub on the deck, perfect for a post surf beer!
Both surf charters sleep up to 12 passengers, come with some of the most experienced captains and crew in the Maldives and are ideal for chasing the swell.
A 7 night private charter on Carpe Vita is around $24,400, or Cape Vita will set you back around US$33,700
Over Reef
As one of my top picks for luxury Maldives surf charters, Over Reef is also an epic option for those looking for a private surf charter too. With a max capacity of 6 guests it's ideal for a small group of friends or couples looking for some luxury and wave hunting.
Expect to pay between US$2,000 to US$3,000 per night depending on the season.
Local Island Surfing
Looking for a more budget friendly, authentically Maldivian surf experience? Well then the local island options are going to right up your street.
Just be aware that as a strict Muslim country all local islands are "dry" so don't expect to sip a cold post surf beer!
Thulusdhoo
The most famous out of all the local islands with waves, Thulusdhoo is just 30 minutes from the main airport and is home to the pumping right hander "Cokes" – which is a firm favourite for any surf heading to the Maldives.
It's a pretty easy paddle out off the main island, and the super fun left hander Chickens sits right across the channel – with a boat transfer costing around US$10pp.
It's location in the North Male Atoll means you can also grab a transfer to heaps of other breaks too – including Sultans, Honkys, Jailbreaks or Ninjas – with transfers starting at around US$25pp
When it comes to accomodation there's a pretty good selection to choose from and it's much more affordable than you might imagine. Akiri Surf Retreat is from US57 per night (with custom surf packages available) whilst the 4* hotel, Season Paradise offers a rooftop pool and ocean view rooms from US$200 on their surf packages.
Click here for more info and to book
Check out my full Thulusdhoo Surf Guide here
Himmafushi
For those looking for a really budget friendly Maldives surf trip, Himmafushi is a great option.
Just 15 mins speedboat journey from the airport, Himmafushi Island is home to the right hander "Jailbreaks" – aka "Jails". This wave breaks on a huge variety fo swells and can handle some serious size – with a mix of carveable walls and fast, cover up sections.
The island itself isn't as developed as Thulusdhoo in terms of tourism, but is perfect for those who want simple, wave filled days and surf transfers to Cokes, Chickens, Honkys and Sultans are easily available.
Jailbreak Surf Inn is one of the best value surf camps the Maldives has to offer – with packages from US$55 per night – for 2 people and including daily breakfast and daily surf transfer to Sultans/Honkys.
Click here for more info and to book
Which option are you choosing for your Maldives surf trip?