Looking for a luxury island resort in the Maldives? Cinnamon Dhonveli Maldives packs in heaps of surfing, diving, relaxation and stunning water bungalows!
When it comes to surfing in the Maldives, Pasta Point is definitely one of the most famous Maldives surf spots.
As the exclusive surf break of Cinnamon Dhonveli it offers up perfect, uncrowded left handers and is a goofy footers dream destination!
So if you're thinking about a luxury surf trip anytime soon – here's how I rate a stay at Pasta Point and Cinnamon Dhonveli…
Pasta Point at Cinnamon Dhonveli – Pumping Surf Meets Island Luxury!
Surfing Pasta Point
Exclusivity
Now paddling out at Pasta Point was a long term dream of mine – it's one of the most exclusive and fun looking left handers on the planet.
And that's because this long, reeling left hander is for the exclusive use of those staying at Cinnamon Dhonveli – or more specifically on the surf package at Cinnamon Dhonveli!
Capped at a max 30 surfers on the island, any session at Pasta Point is far from crowded, and although 30 might sound like a lot during my stay there were usually only a handful of people out at a time and I scored a couple of sessions with the whole break to myself…the dream!
In fact the only part of the day where it even got remotely "busy" was the sunset surf – as everyone scored the last waves of the day before heading to the bar to hang out.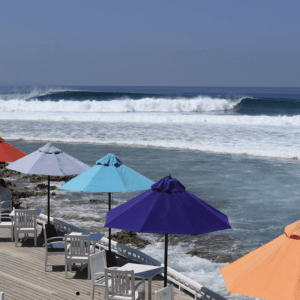 Now I'm a bit mixed when it comes to views on the exclusivity of surf breaks – but after learning about the history of Pasta Point and the guy who first surfed it (Tony Hussein) I respect the decision to keep it that way.
I wont go into that now but it's worth a Google as it's a pretty epic story!
My Favourite Left Hander
The wave itself is super fun – with a pitchy takeoff, rolling into some really carveable walls and more hollow inside section to finish it off. All situated a super easy paddle off the resort steps (aptly named "The Stairway to Heaven") and right slap in front of the surfer bar!
It can handle a huge range of swell – so if you score it good in peak surf season between late Feb and early Nov its not unusual to rock up to overhead perfection.
I've surfed some pretty epic waves on my travels, but Pasta Point still remains one of my favourite waves in the world.
Other Waves In The Area
When it comes to surfing in the Maldives, Pasta Point is far from the only world renowned surf spot in the area. In fact the Malé Atoll is filled with amazing surf breaks – from more pumping points to hollow reefs.
Include in the surf package at Pasta Point are boat transfers and guiding to a range of surrounding breaks, so if you can tear yourself away from the lefts at Pasta some stand out favourites that are also worth checking out include;
Cokes
Alongside Pasta Point, Cokes has to be one of the most famous of all the Maldives surf spots. Sitting on the local island of Thulusdhoo this reeling right hander breaks fast and hollow across a shallow reef – so it's suitable for advanced surfers only.
When the swells pumping Cokes is world class.
Sultans
Fast, hollow and picture perfect, Sultans sits across the channel from Dhonveli and is a favourite right hander for regulars wanting a break from the lefts of Pasta.
Breaking along an empty island it's a super fun wave and absolutely pumps during peak season. But due to its consistency and power can get pretty busy.
Honkys
Right next to Sultans, just a short paddle down the peak, sits Honkys – which is essentially the mirror image of Sultans, breaking down the left hand side of the island.
Although not as perfect in its barrelling nature – Honkys offers up some incredible rides and is a great alternative for goofy footers or escaping the crowds when Sultans gets busy.

Chickens
On the opposite side of the channel from Cokes is Chickens – and for those who aren't staying at Dhonveli this is the premier left hand break in the area and a must surf for any goof footers.
Much more forgiving than Cokes, Chickens is a long left hander, breaking over a deeper reef. Expect long carving walls with some hollow sections too when the swell picks up.
Jailbreaks
Sitting in front of the island jail on Himmafushi Island, the aptly named Jailbreaks is another long, reeling right hander that is nothing short of epic when it's doing its thing.
Leg burning rides filled with plenty of turns and cover ups makes Jails a great alternative when Sultans is busy.
Ninjas
For longboarders and intermediate surfers, Ninjas is a great option – or for when the other spots are pumping and you fancy something a bit smaller and slightly more forgiving.
A much more mellow option this right hander breaks across another reef, about a 30 minute boat ride from Thulusdhoo. Still if you score it Ninjas is heaps of fun.
Check out my Male Surf Guide for more info

Cinnamon Dhonveli
If you're planning on surfing Pasta Point your base is going to be Cinnamon Dhonveli – which received a full refurb in early 2020 so expect all the modern finishes and luxury you envision when thinking about a trip to the Maldives.
Situated a 25 min speedboat from Male Airport (which is included in your surf package) this epic island resort boasts 5 dinning areas, 2 bars (including the epic Surfer Bar overlooking the surf), 2 outdoor swimming pools and both an in house Spa and diving centre too.
When it comes to room types there's 6 options to choose from (this list starts with the most budget friendly!)
Garden Bungalow
Beach Bungalow
Water Bungalow
Junior Beach Suite
Overwater Suite
Beach Suite with Pool
And of course no matter which room you choose you'll have access to all the resort facilities – including extensive beach area, the islands lagoon (keep an eye out for all the awesome marine life passing through) and more.
Cinnamon itself is a hotel chain I've stayed at a lot during my time travelling around Sri Lanka and I've got nothing but good things to say about their customer service, rooms and food across all the locations I've visited.
They also have 2 other locations in the Maldives too (admittedly not offering surfing though);
Maldives Overwater Villa – The Dream!
As well as ticking off surfing Pasta Point during this trip I did also splurge and finally got to tick off a stay in an overwater bungalow as part of the trip too – it was my birthday after all!
The over water bungalows at Dhonveli was everything I was hoping for – including steps leading down into the water below for a spot of snorkelling, which was epic as there were always rays, baby sharks and heaps of marine life kicking around under the private balcony.
The walk from the over water bungalows at Dhonveli lead you right past Pasta Point too – so its super easy to check the surf. The only downside to this though is you'll probably find yourself running back to grab your board when you were in fact heading out to explore the island or go for a relaxing drink!
Spacious, luxurious and with all the amenities you'd expect from a high end Maldives resort it was a great experience overall and certainly one I'm grateful for being able to tick off the bucket list.
I must admit, however, that having done it once I'd be hard pushed to shell out the extra cash to do it again. As fun and was I'd much rather bank the extra dollar to extend my stay a bit – as I'd much rather be surfing than chilling in the room to feel like I got my monies worth!
That being said if you've never experienced it before or simply have the money to afford it, the over water bungalow does give you the most direct access to the waves.

Non Surfing Fun
And alongside Pasta Point and a whole heap of surfing fun, Cinnamon Dhonveli offers up a wide range of non surfing fun too – ideal for giving your arms a break or keeping your non surfing family or partner busy whilst you're in the waves!
Scuba Diving
The Maldives is also known for its world class scuba diving, so it's well worth taking the time to explore what's beneath the waves too. Dhonvelis in house dive centre offers the full range of dive courses – including Intro Dives so you can give scuba a go for the first time.
Expect heaps of turtles, reef sharks and even majestic manta rays if you're lucky!
Snorkel Trips
Don't fancy scuba diving in the Maldives? Why not jump in for a snorkel instead! The team run a variety of guided snorkelling trips – including reefs full of turtles or even a reef tip shark snorkel for those feeling a little more adventurous…and a firm favourite of mine!
And if you don't fancy jumping on a tour you can always snorkel in the islands lagoon or jump off your overwater bungalow for a dip!
Local Island Visits
The Maldives isn't all about luxury resorts – so why not take a day trip to one of the surrounding local islands. A great spot to pick up some trinkets to take home and learn more about the arts and crafts of these amazing communities.

The Spa
Shoulder wrecked from too much surfing? Want to spruce up for a romantic evening dinner or simply wind down and treat yourself? Well the in house spa offers a full range of treatments, including a well deserved back massage.
The Surfer Bar
When I wasn't busy surfing I spent a large chunk of my time kicking back at the iconic "Surfer Bar" which sits right in front of Pasta Point. The perfect spot for a cold beer, cocktail or glass of wine its the front row seat to this incredible wave and a great spot to catch up with all your new surf buddies.
Yoga Classes
Surf and yoga go hand in hand, so its no surprise that yoga classes are also on offer here. A great way to warm up or wind down after your surf it'll stretch out those muscles and get you ready for the next session.

Worth The Price Tag?
Ok so lets get to the nitty gritty here and talk money!
What will a stay at Cinnamon Dhonveli surfing Pasta Point set you back?
What Does It Cost?
Well you can expect to pay from $371USD per night which will get you bed and breakfast for 2 in a Garden Bungalow through to $906USD per night for Premium All Inclusive Over Water Suite.
Or an all inclusive package (including all the booze!) in the Overwater Bungalow which will set you back around $600USD per night.
However, it's worth pointing out this is just for the accomodation – and if you plan on surfing Pasta Point (the whole reason you're going there right?!) you'll need to make sure you book a Pasta Point Surf Package.
This does jump the price up a bit and expect to pay from $2,981USD for a 7 night Garden Bungalow stay (based on 3 sharing) or up to $3,892 for an Overwater Suite.
These surf packages do include everything you need for the ultimate luxury surf trip though – including return airport transfers, meals, surf guiding and of course that exclusive access to Pasta Point itself.
Totally Worth It!
The bottom line here is that if you're looking for that perfect combination of luxury and pumping waves a stay at Cinnamon Dhonveli surfing Pasta Point is well worth it.
After all there are few other places in the world with this quality of left hander and comfort level on offer!
Sure there are a good range of Maldives surf resorts out there, but if it's lefts you're wanting to surf, Pasta Point is hard to beat.
I'm already planning my next return…!
Click here for more information and to book your spot

Is Pasta Point on your bucket list?
Any other epic lefts you'd recommend?