Looking for a super fun mid length board? Well here's my full review of the Firewire Seaside and Beyond designed by Rob Machado
The Firewire Seaside and Beyond is the evolution of the super popular Firewire Seaside – one of the best selling surfboards on the market.
After putting it to the test in a huge variety of surf during a recent run of swell on Australias East coast here's my full Firewire Seaside and Beyond review – and whether this midlength surfboard is one you should to your quiver…
REVIEW: Firewire Seaside & Beyond
Who's It For?
Much like the original Seaside with its high volume, easy to paddle shape – the Firewire Seaside and Beyond is also suitable for a huge variety of surfers, from high end beginners and upwards.
For lower level surfers the extra length gives you a lot of paddle power and volume underneath you, making it a forgiving outline, but still with plenty of performance as you start pushing your turns.
Which is also the big draw of this length and shape for intermediates too – pushing turns and also being on a board that can handle bigger conditions too.
For advanced surfers the Seaside and Beyond offer some epic mid length fun and is another awesome addition to any quiver.
Board Breakdown & Dimensions
When it comes to the size options available the Firewire Seaside and Beyond is limited to 3 sizes:
6'8″ x 20 3/4″ x 2 5/8″ = 40.9L
7'0″ x 21 3/8″ x 2 11/16″ = 45.3L
7'4″ x 21 3/4″ x 2 3/4″ = 49.5L
Even thought I would've ideally wanted the 7'0″ version for a full mid length feel I could only get my hands on a second hand 6'8″ option to test it out.
However I was pretty surprised at how well it paddled and handled and after riding it I don't feel like I'd prefer the 7'0″ version – something which was backed up by a friend of mine who actually traded in his 7″0 for the 6'8.
When it comes to the contours of the board it's essentially a stretched out version of the Seaside – so a mix of low entry/exit rocker and single to double concave gives it heaps of paddle power but also a surprising amount of speed and performance too.
One of the first things I clocked was how much it tappers out in the tail – very similar in fact to the Go Fish – which is one of the tweaks that gives this mid length so much performance. Get that back foot over the fins and you'll be surprised how well it pivots!
What Wave Size Does It Suit?
After my experience on the Firewire Glazer I was worried that the LFT construction (which we'll get to in a minute) would mean the Seaside and Beyond would prefer punchier surf.
I quickly realised when testing it out that it is heaps of fun in a huge variety of conditions – from waist high to solid overhead.
And this is obviously something that helps its appeal to a huge variety of surfers – from more beginner surfers right through to experienced ones.
My main feedback on wave size is don't be afraid to push the Seaside and Beyond in terms of wave size and it can act like a hybrid step up board in that respect, especially with all the grip and speed of the quads fin setup.
Fin Setup
When it comes to fins, the Seaside & Beyond is a deciated quad setup – which is a huge factor in the speed and control it offers in such a variety of waves.
To kick things off I was riding it with a set of LZ 5ive fins, which are a more traditional quad style setup.
However I also switched over to the Machaod Quads, a split keel style quad fin setup designed for the original Seaside.
Honestly – it really took the board up a notch in terms of performance and fun factor and I would definitely recommend them if you want to make the most of the board.
And if you fancy all the fun of the Machado fins, but make them less of a hit on the wallet Project Blank have just launched a set for under AU$90 that are a really similar template and work just as well!
Plus use the code STOKEDFORTRAVEL! for an extra 10% off too
LFT Construction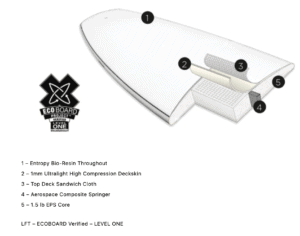 Unlike the original Seaside (which came in Helium tech) the Seaside and Beyond comes in Firewires other epoxy construction – LFT.
With a central aerospace composite running through the board it acts as a stringer – and much like a fibreglass board it flexes around this – as opposed to Helium which flexes around the rail of the board.
Personally I find the LFT heavier and certainly less durable than Helium, but it does seem to be Firewires go to for larger size boards.
Vs The Original Seaside
So the immediate comparison people will be making is how does it compare to the original Seaside – especially given the difference in length.
Well in my opinion they've managed to capture all the speed and fun of the Seaside and stretch it out without loosing the personality that everyone loved about it, which is pretty epic.
The biggest difference for me is the Helium vs LFT construction – I much prefer the strength and weight of the Helium, the LFT is certainly easier to ding and put pressure dents in.
If you're trying to decide between the two it's really going to come down to what you want the board to do and what surf you'll be paddling out in, but to be honest you could quite happily grab a 7'0 Seaside and Beyond as well as a smaller original Seaside and flip between the two depending on the conditions!
Vs The Firewire Sunday
In May 2021, Rob Machado also launched the Firewire Sunday – which with options from 5'6 right through to 7'3 may also be a board you're considering or comparing.
Now if you're thinking about riding the Firewire Sunday as a midlength surfboard (either the 6'0, 7'0 or 7'3 models) then up against the Seaside and Beyond it's going to boil down to the waves you're riding, the fin setup and your style too.
The Sunday is a high volume board (the 7'0 comes in at over 53L) and can be ridden as a single fin, 2+1 or twinny so you have a few extra options here vs the Seaside and Beyonds quad fin setup.
This also means it's going to be a much more cruisey ride than the Seaside and Beyond – which is certainly more performance orientated, faster and going to allow you to surf much more critically.
Personally I'd go with the Seaside and Beyond, especially for bigger, punchier surf.
Check out my full review of the Firewire Sunday here
My Final Thoughts
Having loved the original Seaside so much I had high hopes for the Firewire Seaside and Beyond – and I'm stoked that I wasn't disappointed.
It delivers all the fun and playfulness but in a board that suits an even bigger variety of waves, in fact I've found it hard to get off of, and it has a solid place in my quiver because of this!
For less experienced surfers those who are thinking the original lacks the length they need or for advanced surfers who wanted a stretched out, almost step up version of the original it's ideal.
It's by far the most used surfboard in my quiver at the moment and a whole heap of my buddies have enjoyed surfing it as well, when they've been able to part me from it!
The bottom line with the Seaside and Beyond is you'll catch heaps of waves, easily generate plenty of speed and find it really playful and fun under your feet – and for those reasons I can't help but recommend it.
Have you ridden the Seaside and Beyond?
What do you make of it?