Looking for some twin fin, fish fun? Here's my full review of the Firewire Go Fish by Rob Machado, and why its become one of my go to boards!
The Firewire Go Fish was the first breakthrough board by Rob Machado – which was then followed up by the smash hit Seaside and most recently the Firewire Sunday
This classic twin fin fish, with it's unique channels, quickly become a staple classic for a lot of peoples quivers.
I know I'm slightly late to the party on this one – but having had so much fun on the other Machado surfboards, I had to get my hands on the Firewire GoFish for a full review and comparison…
Looking for the NEW Too Fish? Check out my first impressions here
REVIEW: Firewire Go Fish
Who's It For?
So who is the Go Fish aimed at? Well if you love cruisey waves and draw nice line son the face it's certainly going to tick those boxes and this board love to be ridden with full Machado style!
In terms of ability it's going to suit a range of surfers from mid range intermediate and upwards.
Sure lower level surfers might be able to give it a good go – especially given the volume and paddle power it has – but the performance of the board, coupled with the twin fin setup means it's certainly more suited to more competent surfers.
I'd also say that this board was my first real experiment with a twin fin setup too – so if you're looking for a twinny to add to the quiver or something new to try, it's well worth considering.
Board Breakdown & Dimensions
So lets talk about sizing, volume and those unique contours that have added a modern twist to a classic design.
Well in terms of sizing it run from 5'3 right through to 6'3:
5′ 3″ 20 1/4″ 2 3/16″ (27.4L)
5′ 5″ 20 3/8″ 2 1/4″ (29.3L)
5′ 7″ 20 1/2″ 2 5/16″ (31.1L)
5′ 9″ 20 5/8″ 2 3/8″ (33.1L)
5′ 11″ 20 3/4″ 2 7/16″ (35L)
6′ 1″ 21 1/4″ 2 5/8″ (39.5L)
6′ 3″ 21 1/2″ 2 3/4″ (42.9L)
The first thing you'll notice about the Go Fish is there's a lot of volume sitting right under the chest and in the top end of the board. Combined with low entry and exit rocker, it means there's plenty of power power in there and lots of stability too.
That volume thins out quite aggressively through the tail though, giving it plenty of performance at the business end of the board.
One of the most unique things about the Go Fish though are the concaves and the channels running through the back two thirds of the board. The centre of board is pretty subtle, with a slight bit of single concave and V in the tail, but your eye will probably be too busy looking at the rails to notice!
The rails of the board basically create a large channel in the bottom of the board, which are going to direct the water right through your fins and result in the Go Fish having heaps of lift, speed and also flow.
Ideally I would've grabbed the 5'11 option – I'm 83kg and 185cm, but prefer a slight extra bit of foam underneath me – but could only get hold of the 5'9.
I've been really pleasantly surprised in how well that works for me though, and honestly I haven't felt like I need any extra length or foam.

Fins
The Firewire Go Fish comes in a dedicated twin fin setup, as is the standard for retro style fishes.
I teamed mine up with the Machado Keel Fins (which were launched alongside the Go Fish, but I first bought to test out in the Machado Sunday) and it goes great.
Heaps fo drive, speed but also release on the turns.
In fact the combo goes so well I've had no desire to surf the board with anything else in it so far, but I might update this review down the line if I test it out with a more upright set of fins.
In theory these should be better for more top to bottom style surfing and loosens things right up, but I'm not convinced it'll suit the way I've been surfing the Go Fish.
What Wave Size Does It Suit?
I'm sure it can handle bigger waves, but for me and my surfing style the twin fin setup is optimal in that chest high region.
And even thought the board I grabbed is slightly lower in volume than I'm used to (and shorter too!) it has been going great on smaller days.
Even when it's slightly flat and mushy I can get plenty of drive and speed of the keel fins and it sits in the pocket really nicely.
For me, when things jump above the head high range I'm always reaching for a quad fin setup for that extra grip and stability. That being said though I'd tested the Go Fish out in some punchier waves too and it seems to handle it really well!
One thing I will add in here though, is that I've certainly found it much more enjoyable to surf on my fore hand than my back hand. This really boils down to the twin fin setup though, which having chatted to a few surf buddies who love twinnies, is often the case – surfing twin fin on your back hand is certainly more difficult than other fin setups.
Still, when I manage to find a left hand bank (which isn't always easy in Australia) the Go Fish is quickly becoming my go to option and it was also my board of choice when I head up to the Surf Lakes Yeppoon wave pool recently too.
LFT Construction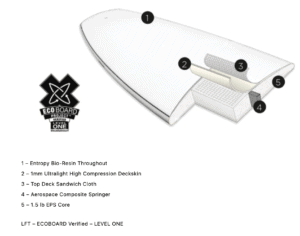 When it comes to the build, the Firewire Go Fish comes in the LFT construction.
With a central aerospace composite running through the board it acts as a stringer – and much like a fibreglass board it flexes around this – as opposed to Helium which flexes around the rail of the board.
Personally I find the LFT heavier and certainly less durable than Helium, and would love to see how the Go Fish handles in Helium as well.
Maybe Firewire will do a Go Fish 2.0 in this option sometime in the future!
Go Fish Or The Seaside?
Given that they're both fish surfboards I can see why people would be comparing the Go Fish with the Seaside – but having ridden both I can assure you that they're both entirely different animals.
For most surfers I feel like the Firewire Seaside is going to be the way to go – easy to paddle, incredibly fast, super durable in Helium construction and works in a huge variety of conditions.
The Go Fish with it's twin fin setup on the other hand isn't quite as beginner friendly and is certainly a lot looser underfoot which takes some getting used too, and can be seen as both a pro or a con depending on how you like to surf!
To be perfectly honest though I love both boards and they're both great fun to ride. So if you can add both to your quiver, do it!
For smaller, cleaner surf the Go Fish is my preferred weapon of choice out of the two, with the Seaside my go to for faster, bigger waves.
It's really going to depend to the fin setup and their associated characteristics that you want underfoot as it's pretty difficult to find a winner when it comes to fun factor!
My Final Thoughts On The Go Fish
So what are my final thoughts on the Go Fish?
Well honestly this board caught me slightly off guard and is the first twin fin that I feel I've really connected with.
It really fits in with my style of surfing (as a long time longboarder, drawn out lines are a staple of my wave riding) and I've had nothing but fun on it.
Cruise along in the pocket, take it to the face for some roundhouse carves or flick it into the lip for some floaters – the board feels like it creates the style for you.
I think the bottom line with the Firewire Go Fish is that it surfs as good as it looks!
A modern day twist on a classic style of board and one that I wouldn't hesitate to recommend.
Love the look of the Go Fish? Well check out Robs latest creation too – the Firewire Too Fish
Have your surfed the Firewire Go Fish?
What did you make of it?