Trying to pick the best surfboard for travel can be a freaking nightmare, there are literally thousands of surfboard shapers and models out there as well as having to take in to consideration annoying travel stuff like size, weight and of course a board that can handle a variety of conditions.
Having spent 15 years surfing 9 foot logs I can tell you straight up that long boarding and travel is not fun…in fact I didn't even bother lugging one, I just bought or rented in each location, which can be less than ideal.
However since I dropped down to a shortboard a few years back I've been toying with finding the perfect travel board – one that combines portability with a high wave count and being able to handle everything from waist high peelers to punchy overhead reefs.
And I think I've finally found what I needed with the FireWire Chumlee…
REVIEW: FireWire Chumlee – My Perfect Surfboard For Travel?
Why I Chose The Chumlee
Ok so a quick history of my drop form long boarding to short boarding and travelling with a shortboard
After spending the last 10 years almost exclusively on longboards (both traditional single fins and performance logs) I decided to take the plunge and transition to shorter boards for ease of travelling and a new challenge
I started out on the Stuart "Fat Albert" in 6'4, riding it both as a quad and a 2+1 on smaller days
I then dropped down to a 6 foot FireWire Potatonator (again a quad)
Then a 5'11 Chumlee
…and I also now carry a 5'5 Chumlee too!
For me the Fat Albert was the perfect transition board – easy to paddle, over 45 litres so great volume and the versatility of the 5 fin setup was super fun a variety of conditions.
..but I wanted more performance – especially in locations like Indo with punchy, barrelling reefs!
The Potatonator bridged the gap nicely, but after about 8 months I wanted more rail to rail action and it did seem to max out once it got overhead
I stumbled across a bargain 5'11 Chumlee in Noosa ($400 with barely a pressure ding!) and decided to give it a go – and from the first surf I had on it I was hooked!
Following my beast of a surf trip from Cape Town to Durban and onwards to Mozambique with the crew of Ticket To Ride (which included coaching the entire way!) I also decided to drop down size and literage again to the 5'5 for even more performance.
Heaps Of Volume
For me the biggest thing I struggled with for covering the transition from long boarder to shortboarder as well as the variety of surf breaks I was paddle out at on my travels was literage.
To put it into perspective I'm 6 foot and weigh around 11-12 stone depending on how much I've been partying in the location I'm based!
I didn't want to loose the paddle power and wave count of a log (admittedly you're going to loose some of course!) so I wanted to keep the volume high.
Now the 5'11 Firewire Chumlee is 38.4 litres, so it's super chunky, but also doesn't feel too obese either, especially in comparison to the Potatonator.
The 5'5 on the other hand drops a lot of size (for increased turns) but still has 31.7 litres – which is at the high end of roughly what I should be riding given my size and weight!
As a surfboard to travel with being able to pack this additional volume into a shorter board means you're going to be well within airline length restrictions, whilst still retaining the paddle power and wave count of a larger board…winning!
Plus the Helium construction makes both options ridiculously light too.
But Super Speedy
Now despite their slightly larger dimensions the first thing I noticed was how fast the Chumlee was! In fact the guy I bought it off was selling it as it was too fast for him and when I was enquiring at my local surf shop about the best fin setup for it the guy actually had one himself and also commented on the speed.
It's nippy enough to easily make it around sections, manoeuvrable enough to smash out decent turns and you'll be able to generate some solid speed on it down the line.
It's a formidable combination to have – the flow and glide to get into waves pretty early combines with the speed to make the section or take off super deep if you want!
And ultimately that combo converts into a high wave count and super fun surf session – which is exactly what everyone is looking for right?!
What Fin Setup?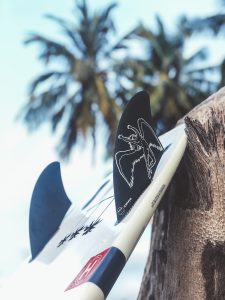 I usually ride both my Chumlee models as quads and they handle super well.
I've tried it as a thruster and also messed around with 5 fins (just for shits and giggles!) and to be honest it felt awkward and wrong under my feet.
I've checked out a few videos from FireWire and shaper Dan Mann and both said the Chumlee was designed as a quad – so I'd stick with that!
That being said I've recently ridden my 5'11 as a twin setup using the Zephyr model from Palm Bay Bali – in theory this setup shouldn't really have worked but honestly I absolutely loved it!
Still heaps of drive but with a looser, more skateboard style feel. Considering it was starring to feel a bit stiff under my feet after adjusting to the 5'5 it's now my preferred setup for that board.
A Huge Variety Of Waves & Conditions
Ok so to put the versatility of this board into context here's some of the main spots I've paddled out with it over the last year;
Including surf spots like
SuperTubes
Coffee Bay
Tofo Point
Tallows
Broken Head
Angourie
Uluwatu
Playgrounds
Beng Bengs
Ebays
As you can see from the above I've smashed it around in everything from sandy bottom beachies and reeling point breaks to punchy, barrelling reefs.
And I'm stoked to say that it has handled everything I've thrown at it!
Both the 5'11 and 5'5 have been great in a huge range of sizes, although I must admit that I'm now slightly preferring the 5'5 Firewire Chumlee option as it certainly feels a lot nippier and manoeuvrable under my feet.
My Perfect Travel Board?
Ultimately the fact I can ride the same board in a huge range of conditions and surf breaks is what makes the Firewire Chumlee my ultimate travel board.
Plus the helium construction of the new Firewires makes them insanely light too, which is an added bonus.
Admittedly I can even see myself loosing the 5'11 soon as I've adjusted to the 5'5 really quickly and I'm loving the extra responsiveness in my turns now. Although I also have to admit the extra volume on the longer version does mean I can be pretty lazy with paddling, so maybe I'll hang onto it a while longer!
Either way the Firewire Chumlee is going to be in my board bag for a long time to come and I'm stoked to have finally found an epic all rounder board that ticks all of my surfing boxes!
…see you in the lineup!
Late 2019 Update – Enter The Seaside!
Having spent a year smashing it on the Chumlee I've now also added a 5'8 Firewire Seaside to my quiver too – replacing my 5'11 Chumlee – which is another incredible board to travel with. Check out my full Seaside review here.
For more tech info on the Chumlee check out the official Firewire website here
What your favourite surfboard for travel?
Have you tried out the FireWire Chumlee?
Featured image courtesy of Charlotte from A Broad On A Board