Planning a Medewi surf trip? Heres everyting you need to know about surfing one of Balis funnest left handers – including accomdoation, food and more!
Planning a Medewi surf trip?
I don't blame you – this epic left hand point break is one of my favourite surf spots in Bali and the long, mellow walls reel for days.
In fact it's not only one of the longest lefts in Indonesia, it's one of the longest on the entire planet!
So it's time to pack your surfboard and head to the west coast of Bali where the Medewis famous surf point awaits…
Medewi Surf Guide – Everything You Need To Score Perfect Lefts!
Where Is Medewi & How To Get There
Medewi itself sits on the West Coast of Bali, about halfway along the coast from the airport up to the crossing to neighbouring Java.
The easiest way to travel to Medewi is via a private driver (especially if you have surfboards) and it'll take you around 2 hours from Canggu or 3 hours from the airport…but take that with a slight pinch of salt as Bali traffic can be pretty crazy!
Expect to pay around 500,000IDR from Canggu or 700,000IDR from the airport, one way.
Where To Stay In Medewi
Despite the small size of this little fishing village there is a range of accommodation for all styles and budgets – from simple, low cost guesthouses like Gede Guesthouse through to luxury Bali surf resorts like Bombora Wavelodge.
Here are some of my top picks though (all within walking distance to the waves) – just click on the links for the latest availability and rates.
Medewi Surf Guide
Medewi Surf Point
This is the reason you'll be heading to Medewi – the famed point break that sits right in front of this quaint little fishing village!
Having surfed all around Bali this is easily one of my favourite waves on the island, if not the entire planet.
This rocky bottom point is fun, forgiving (well, most of the time!) and insanely long – so get prepared for some leg burning sessions and serious noodle arms on the paddles back out!
I tracked my surf sessions using my Apple Watch and Medewi is my new PB – with a longest ride of 352m and 49 seconds of wave riding time…it's an insanely reeling wave!
Which Tides?
Medewi is best surfed on a mid to high tide as the wave really connects the whole of the way through from the point to the inside beach section. Surfing at low can be pretty dangerous due to the shallow nature of the break and the rocky bottom (beware of the boulders too!), but that's not to say it's not fun for more experienced and kamikaze surfers!
Where To Paddle Out
There are two main spots to paddle out for the point. The first (and easiest option) is from the beach section, in front of the fishing boats. Just wade out to chest deep to avoid the boulders and then get stuck into the paddle – it's a long one but well worth it.
The second option is to paddle out right at the point, just in front of the sea wall by Umadewi. Take caution with this option though as it's shallow, full of boulders and a big set will clean you up onto the rocks! Still if you're confident with your paddling and want to get to the point in the shortest amount of time it's a solid option!
What Levels?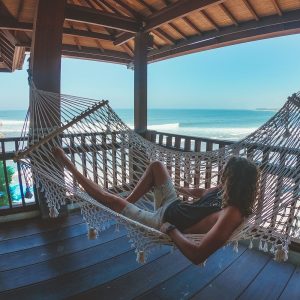 Personally I'd say Medewi is best suited for intermediate and upwards, although higher end beginners will certainly be able to refine their green wave skills on the long walls if the swell isn't pumping.
A huge advantage that Medewi has over other surf spots in Bali is that it's also really longboard friendly too – so if you're looking for some fun walls to tackle on your single fin and get those toes over the nose Medewi is going to be an absolute dream.
Like most spots in the world – once the swell and conditions really pick up make sure you stay within your comfort zone!
Can You Do Lessons?
Despite the fact I'd personally only recommend it for intermediate and advanced surfers you can do surf lessons at Medewi too. On one hand I video this as pretty dangerous (due to the rocky bottom and steeper inside section) but on the other hand if you do lock in at the right angle you'll get an epic ride.
If you've never surfed before I'd suggest spots like Canggu or Kuta before hitting Medewi if you can.
Other Surf Spots
As well as the main surf point there are plenty of peaks all along the coastline either side of Medewi – including A frame beach breaks and smaller reefs and points. In fact just a short walk from the point you can easily find yourself an empty spot for just you and your buddies.
Bottom line is if you don't fancy going left or it is getting a bit crowded a little exploring can pay off!
Surf Photos
Want some epic bragging rights on Instagram or to send your buddies back home whilst you indulge in some Medewi surfing goodness?
Well good news – there are a couple of awesome local photographers kicking around on the point each day shooting the surf sessions.
When you come out of the water sit down (grab a cold Bintang!) and see if your waves looked as good as they felt!
You can also hire them for a private shoot if you want as well.
Photos are around 50,000IDR per shot or if you're there for a few days you can do a package deal for around 500,000IDR for the week.
Where To Eat
Admittedly there's not a huge range of decent food available in Medewi, but there are a few different restaurants and warungs you can grab a feed at – whether you want something cheap and local or fancy some sunset cocktails and western food.
Gede warung
Bombora Restaurant
Maruf Dewi Rasta Cafe
Umadewi Surf & Suites
Bambu Barels
Medewi Beach Inn
Kedai Jukung Medewi Food Corner
As a veggie I did find it pretty limiting as there aren't a huge range of dishes to choose from (get ready to get you absolute fill of nasi goreng!) but you'll be able to survive for a good few days!
Can You Party?
The simple answer here would be no!
Unless you're bringing your own surf crew or happen to bump into a crew of people there's little to no nightlife in Medewi so the best you can hope for are some post surf or sunset Bintangs at the beach warungs.
If you're looking to surf and party then I'd suggest heading to Canggu or Uluwatu instead!
Medewi is definitely eat, sleep, surf repeat!
Medewi Vlog
Hopefully that covers everything you've been racking your brains about for heading up to Medewi for some seriously fun surfing – if you have any other questions (or anything to add!) hit them in the comments and I'll keep the post updated with even more info!
And of course check out my full vlog below for a sample of what to expect from this incredible left hander…
Anyhing else you want to know about planning a Medewi surf trip?
Add it to the comments!