Want the ultimate Bali surf resort? Komune Resort at Keramas Beach in Bali offers stylish luxury with a world class surf break right on your doorstep!
Bali is famed for it's world class surf breaks, tropical vibes and plush hotels – so it's no surprise that Komune Resort on Keramas Beach is home of the WSL surf stop and is consistently rated amongst the top surf resorts in Bali, due to reeling right hander right in front of the hotel.
After a week of waves, relaxing and good times – here's my full review of Komune Resort (aka Komune Hotel), including what it's like, the rooms, the facilities, the waves and of course whether I think it's worth booking a stay at one of Balis most well known surf hotels…
REVIEW: Komune Resort
Where Is Komune Resort & How To Get There?
Komune Resort and Keramas beach sits on the East Coast of Bali, roughly 45 mins from Denpasar Airport or just over an hour from the bustling hub of Canggu…both of which are very traffic dependant!
When it comes to getting over to Komune Resort the easiest option (especially if you have surfboards in tow, which I'm assuming you will!) is a private driver.
And if you need any recommendations on this my friend and driver Budah will happily help you out – charging 250,000IDR from the airport or 300,000IDR from Canggu.
Just drop him a Whats App on +62 819-9785-1578 and say I sent you his way!
Keramas Beach
Keramas Beach itself sits on the East Coast of Bali and you can actually see the neighbouring islands of Nusa Lembongan and Penida from the shore on a clear day, as well as Mount Agung in the distance behind the resort.
Looking along the beach also provides some incredible sunrises – so make sure you set your alarm early and check those out.
It's also worth pointing out that like many beaches in Bali, Keramas Beach has black, volcanic sands – so don't expect postcard perfect white shores here!
The Rooms
Depending on your budget, travel style and who you're travelling with Komune Resort offers 4 room options;
Resort Room
Family Suite
Beachfront Suite
1 Bedroom Villa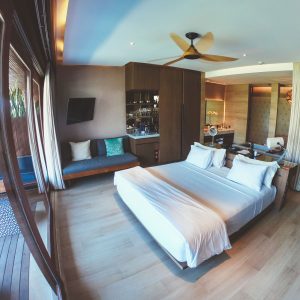 The resort room is a comfortable but basic double or twin room, situated in amongst the palm trees and just a quick walk from the beach (honestly like 2 minutes tops!) and is ideal for those looking for the best value for money, especially if you package it together with their 5 night and free massage deal!
I actually stayed in the Family Suite as it offered a bit more space, as well as a small lounge area to work from – which is always handy for blogging and video editing! The only downside to this was the fact you do end up staying in a family section of the resort (something which I had totally overlooked!) so if you don't fancy crying babies and kids it's not as advised!
If you're wanting can views the upgrade to the Beachfront Suites gives you access to a lush looking infinity pool and you overlook the pool, beach and of course Keramas surf break – so if you have the cash it's well worth the splurge.
The Facilities
As you might expect from a high end hotel, Komune Resort has a whole heap of in-house facilities and dinning options. This includes;
3 in house restaurants – The Surfers Warung, Health Hub and Komune Beach Club
Beach front pool
Wifi throughout
Yoga sessions
Lap pool (adults only…escape the kids!)
Fitness Centre
24 hour Reception
Concierge
Tour Desk
Guest Laundry
Pool Table

The Fruit Bowl

Table Tennis

Business centre
Free Parking
Beachfront Outdoor Cinema
Day Spa
Skate bowl (full old school 80s style pool setup!)
All rooms come with surfboard racks too!
As expected I did end up spending most of my time in the Komune Beach Club, or chilling by the pool on the day beds – except when I was surfing of course!
Food wise the prices are on par with the standard of accommodation (…in other words pretty high for Bali!), but they are pretty solid feeds and extremely tasty. If you do fancy something a bit more local or budget friendly you can always take a short stroll along the beach!
Keramas Surf Break
Right hander
Rocky reef
Barrel sections
Intermediate to Advanced only
Super shallow (especially on low tide)
When it comes to the main reason to stay at Komune Resort the fact Keramas surf spots sits right in front of the hotel is probably why your surfing partner is suggesting it for your Bali holiday!haha!
This reeling right hander breaks over a rocky reef into a river mouth – producing open barrels and some epic aerial ramps too – so there's no wonder that it's the choice of the WSL surf tour on their yearly pro circuit.
When it comes to ability this is a high end intermediate and advanced surfer only spot – the wave itself is fast and the water is shallow. Although the reef isn't super sharp (in fact its much more forgiving that West Coast counterparts like Padang Padang or Uluwatu) don't underestimate it as Mother Nature will soon put you back in your place!
Komune Resort is very set up for surfers – from each room having board racks by the door, to the flood lit night surfing on offer for guests.
How Much Does It Cost?
Food & Drink Costs
When it come to food and drink cost you'll pay around 45,000IDR for a Bintang, 110,000IDR for a cocktail and average meals around 70-120,000IDR, but be aware that prices on the menu dont include the 10% tax and 11% service charge which will soon mount up.
Get in for the daily 241 happy hour from 4-5pm for the best drink offers!
The food itself is filling and tasty and I was stoked to discover they have a dedicated in veggie and vegan menu too, which was a welcome addition.
One thing I would mention when putting drinks/meals on your room is just double check the items before signing – I noticed a couple of mistakes just in time.
Room Rates
So what will the room options at Komune Resort set you back?
$88USD per night for the resort room (based on a 5 night stay, including free massage), or around $98USD per night without that deal
$134USD for the suites
$219USD for the beachfront suites
$320USD+ for the 1 bedroom villa
Prices do vary slightly depending on availability and season so use the link below to check the latest rates and deals.
Click here for the latest availability and rates
Would I Recommend Komune Resort?
If you're a surfer looking for some resort luxury and epic waves on your doorstep then you can't really go wrong with Komune Resort – it ticks all the boxes needed for an epic Bali surf trip!
It seems especially ideal for surfers travelling with non surfing partners, friends or even family – plenty of entertainment and luxury to keep them happy whilst you score some world class waves!
Whether you're indulging for a few days (like myself) as part of a longer surf trip or just want to base yourself somewhere with all the creature comforts for a 2 week Bali holiday then Komune Resort definitely has everything you need to relax, unwind and make the most of the waves.
Click here for the latest availability and rates
Have you stayed at Komune Resort?
What did you make of it?