On the hunt for an epic Bali surf resort? Well why not score some epic lefts and enjoy some Medewi surf luxury at Bombora Wave Lodge – a surfers paradise!
Planning a Medewi surf trip and on the hunt for an epic Bali surf resort to kick back in?
Well why not score some epic lefts and enjoy some Medewi surf luxury at Bombora Wave Lodge?
Situated right on the beach at Medewi with one of Balis longest left handers a short paddle from your doorstep, Bombora Wave Lodge offers everything a surfer needs, with a good dash of luxury thrown in!
But what is a stay here like and does it meet the hype?
Medewi Surf Luxury At Bombora Wave Lodge
Where is Medewi & How Do You Get There?
Medewi itself sits on the West Coast of Bali, about halfway along the coast from the airport up to the crossing to neighbouring Java.
The easiest way to travel to Medewi is via a private driver (especially if you have surfboards) and it'll take you around 2 hours from Canggu or 3 hours from the airport…but take that with a slight pinch of salt as Bali traffic can be pretty crazy!
Expect to pay around 500,000IDR from Canggu or 700,000IDR from the airport, one way – although Bombora do offer a package including return airport transfers too.
The Rooms
As you'd expect from any high end surf resort, Bombora offers a variety of room types depending on what you're looking for and of course your budget too.
The main 4 options are as follows;
Bombora Standard – 24m² on the ground floor this option is available in double or twin setups
Bombora Beach Front Deluxe – 44m² on the ground floor with ocean views towards the point, again. twin or double setups
Bombora Beach Front Deluxe Ocean View – 44m² on the first floor with epic ocean balcony views, king bed
Bombora Beach Front Ocean Suite – 62m² this first floor suite has a king and single bed with even better ocean views right to the point!
All of the above allow you access to the epic infinity pool which overlooks the break (and is for in-house guests only), daily turn down service, water cooler (so bring a water bottle and go eco friendly) and of course all the other awesome facilities Bombora offers.
The Bombora Residence
Want to go all out and really indulge? Well the Bombora Residence is nothing short of a surfers dream!
Originally the owners private villa it's now the premier room at Bombora – with incredible panoramic views across the point and beach, huge living area complete with smart TV, his and hers shower/sink combo and over 250m² of space to kick back and relax in.
Oh and did I mention it also has its own private swimming pool on the balcony overlooking the surf? I suppose I should probably mention that too!
250m square meters of private, villa style accommodation
Sleeps 4 (1 x double, 2 x single beds)
Additional beds available on request
Private pool overlooking the surf
Full kitchen
This was my base for a week in Medewi and was incredible – plenty of space to chill, work, watch movies, relax and of course enjoy some cold sunset Bintangs in the pool!
Facilities
As you'd expect from any Bali surf resort Bombora comes kitted out with all the creature comforts of home – from bath robes (in an awesome tropical pattern!) through to ice cold A/C, solid wifi and of course THAT awesome infinity pool which overlooks the surf!
But as a quick round up here are some of the most notable facilities;
Absolute beachfront
Wifi throughout
Infinity pool
Restaurant
Bar
A/C rooms
Flat screen TVs in all rooms
Surf kit hire
There's not much else you really need to make the most of Medewi and its epic surfing!
Medewi Surf Break
Left hand point break
Rocky bottom
Can handle a large range of swell
Ideal on a mid to high tide
Best for intermediate and advanced surfers (although lessons are available)
Peak surf season = May to September
If you're heading to Medewi the chances are you have a surfboard in tow – as the waves here are certainly the biggest draw in the area!
The main surf spot in Medewi is the point, which is one of the most fun and long left handers that Bali has to offer!
I was tracking my sessions as always with my Apple Watch (more on the Apple surf watch here) and clocked my P.B anywhere in the world – an absolutely reeling 342m long ride!
Breaking over a rocky bottom expect super fun, carving walls and the occasional cheeky cover up when the swell direction and size.
Honestly it's a super fun wave and can handle a huge range of swell – so whether you're scoring it chest high or solid overhead get ready for some leg burning rides and noodle arms after the paddle out!
You'll want to surf Medewi towards the highest part of the tide as it becomes super shallow and hectic at mid too low and even though a lot of people don't surf it with reef boots I'd advise them as there are heaps of urchins kicking around.
How Much Does It Cost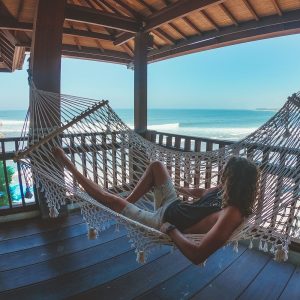 So how much does a stay at Bombora Wave Lodge Medewi cost?
Well as you might have guessed by the title and my rundown of the rooms it's certainly priced as a high end Bali surf resort and you certainly get what you pay for! Here's a rundown of the room rates, although they vary quite a bit depending on the season;
Bombora Standard – from $70USD per night
Bombora Beach Front Deluxe – from $105USD per night
Bombora Beach Front Deluxe Ocean View – from $120USD per night
Bombora Beach Front Ocean Suite – from $145USD per night
The Bombora Residence – from $400USD per night
They do also offer package deals which also include return airport transfers and even the option for 3 nights over at their partner villa on Nusa Lembongan!
Click here for the latest availability and rates.
Would I Recommend Bombora Wavelodge?
After a week kicking back at Bombora Wavelodge, would I recommend it as a spot for you next surf trip in Bali?
Well lets run through the upsides and downsides of my stay here.
Pros
Obviously the biggest thing that Bombora has going for it is their proximity to the surf, you honestly count get any closer if you tried and it's probably the best surf resort location I've come across (except maybe Cinnamon Dhonveli in The Maldives!).
That and the luxury the rooms offer (especially the Residence) means if you're on the hunt for that next level of accommodation they have you covered, which is especially handy if you're travelling with a non surfing partner!
The staff here are super friendly and helpful, will remember your name almost instantly and are always happy and smiling – customer service here certainly matches the price tag for sure.
Cons
Honestly the only downside I could come up with when it came to my stay here was eating.
Yes their in-house food is pretty good, but the portion size does lack a bit of consistency (I'd suggest avoiding the pasta and nachos) and as a vegetarian my options were pretty limited – especially for a longer stay.
I mean when your biggest issue is with the food, it should say a lot about how good the accommodation is!
The only other thing to point out is that eating/drinking in-house does come with a premium price and also doesn't include the 21% tax and service charge…which can quickly mount up, but is the case with most high end accommodation in Bali.
The Bottom Line
The bottom line is that Bombora offers access to the reeling Medewi surf breaks and gives you all the luxury you'd expect from a premium Bali surf resort – with an unbeatable location, especially for goofy footers.
So if you have the budget I wouldn't hesitate to recommend staying here!
I had an absolute blast, slept amazingly and surfed until my arms were noodles…I mean what more could you ask for?!
If you're keen to book your dream surf trip to Bombora Wavelodge click here!
Planning a Medewi surf trip?
Anything you'd like to know?