It's always good fun to take your GoPro surfing and capture a fun day of waves – whether you're just cruising your local beach break or heading off to your dream surf destination, having your GoPro surfboard mounts in your bag should be a given!
So to help you make the most of your session, capture some epic waves and get some epic content for your next GoPro video here are my top GoPro surfing tips – from the best angles, settings and of course the best GoPro surfboard mounts too!
GoPro Surfing Tips – Mounts, Angles and Settings!
The Best GoPro Surfboard Mounts & Accessories
GoPro Surfboard Mounts
Now I've got a love hate relationship with the standard GoPro surfboard mounts, but they're a classic.
The only reason I'm not a huge fan of them is the fact that angle tends to make the wave look pretty flat – but on longboards they do create an awesome point of view. For those just getting started it's a great option and you can combine them with other mounts for even better angles (more on that later)
Bite Mount
For those wanting the full POV style shot the mouth mount or bite mount is a great piece of kit.
GoPro do sell a bite mount which clips into the standard GoPro surfboard mount (which is a great way to store or double up whilst surfing – but there are some cheaper 3rd party option out there which are much easier on the wallet.
Wrist Mount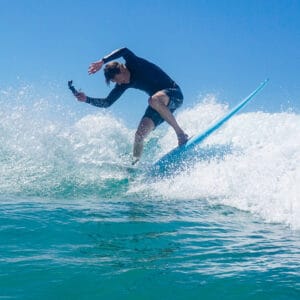 Wrist mounts are another good shout for alternatives angles for GoPro surfing shots – espeically if you mount it on your back wrist for that really nice down the line angle.
Can be a pain to paddle with but you don't have to worry about it too much when you're out in the waves.
Max Lens Mod
By far my favourite GoPro surfing accessory – the Max Lens Mod is a new addition, fitting the GoPro Hero 9 and GoPro Hero 10. It gives the GoPro a huge 155 degree field of vision (super wide angle if you don't know the techy talk!) but more importantly gives you access to some epic horizon levelling – which open up some awesome creative shots.
Unfortunately the Max Lens Mod is in very limited supply, so if you see one in don't hesitate to grab one!
Water Repellant
Another have for anyone surfing with their GoPro. As good as licking the lens is, some proper water repellant on the lens is going to make sure that killer shot isn't ruined by water droplets!
GoPro Floaty Case
For those worried about loosing their GoPro in the lineup make sure you strap it into a GoPro floaty case and avoid it sinking to the bottom of the ocean in the event it comes off your board/pole/mounting system
GoPro Floaty Handle
For those looking for a small selfie stick for shooting from the water or whilst surfing the GoPro Floaty Handle is one of my most used accessories.
If you loose it in the water it'll bob around and you can easily find it! Great for a whole heap of activities and day to day shooting too – not just surfing!
Selfie Sticks
For even more creative angles a longer, dedicated GoPro selfies stick opens up some interesting options. A bit of a pain to paddle with, this is certainly for more advanced surfers or those international going out to capture some epic footage. My SP Gadgets Pole has stood the test of time and comes highly recommended.
Ho Stevie! Armband Leash
Another must for those worried about loosing their GoPros – this awesome arm band means even if you drop your mounting system you won't loose anything!
My go to extra when shooting with the mouth mount or selfie stick.
Also if you're looking for some other awesome GoPro accessories check out this post for some other awesome addition to your kit bag!
GoPro Surf Settings
For Video
2.7k @ 120FPS, Wide – great for in water shooting with heaps of slow-mo options in editing.
…or if you're rocking the new GoPro Hero 10 you can also bump this up to 4K!
2.7k @ 60FPS, Superview – that nice wide angel for great POV shots and capturing the whole scene whilst still offering slow mo in post production
4K @ 60FPS, Wide – another solid option for in water shooting and if you need 4K specifically
4K @ 60FPS, Linear – my go to for land based footage, the crops a bit tighter but generally that isn't an issue on land
Alongside all of the above settings I also have Hypersmooth on for all of them for that gimbal quality steadiness.
For Photos
Timelapse, 0.5 second interval, wide – great for POV shots and selfies sticks, this is my go to to capture the right moment if I can't manually hit the shutter
Photo, Burst, 25/1s, wide – great if you're in the water shooting close to the action and want to capture that perfect frame
Photo, liveburst, wide – for high action shots, usually shooting from the water. Takes a heap of memory though!
Photo, Superphoto, linear – great for landscape shots from the beach
Screenshots – also if you're shooting in 2.7K or 4K at a high FPS you can also pull out some pretty decent stills from your video footage too, which is what I tend to do a lot for social media. This can easily be done via the GoPro app and of course if you're using the Hero 9 you can even shoot in 5K and pull out high resolution, 14MP images.
ProTune Settings
With both photo and video I use the following ProTune settings which I find work well in most situations. If the light isn't great you can always push the ISO slightly higher, but don't overdo it. You can also adjust the white balance manually if you're shooting in specific lighting conditions too.
EV Comp -0.5
ISO Min 100
ISO Max 400
Auto White Balance
Best GoPro Surfing Angles
POV
POV – or point of view – shots are used to describe footage and pics from the users viewpoint, which is the style GoPros have become super famous for.
Chest mounts and mouth mounts are the best options for this and they create some epic angles for barrels, big turns and cruisey down the line shots.
Front Of Board (Standard)
Using the standard GoPro surfboard mounts you can get the shots the look back at your surfing. These are great as filler shots and cheeky barrels and also the easiest shot to tee up if you're not used to surfing with your GoPro. Experiment with shooting both back at yourself and also facing forwards as well for a different take on it.
Front Of Board (Extended)
Take the standard shot a step further with a helmet extension arm and get the nose of the board included in the shot as well for a more creative take on it. Get super creative by placing the main GoPro surfboard mount underneath the nose of your board then team up the extension arm with the Max Lens Mod for some epic angles and a personal favourite of mine.
Hand Held
If you're a confident surfer then some hand held angles using a floaty handle or even selfie stick will really put you in the seat of the action.
Start things off by placing it in your back hand for a great perspective but also mix things up by moving the angle around – loggers can get some awesome toes on the nose shots by simply extending their arm upwards, shooting down.
In Water Shots
Don't want to shoot yourself surfing or not high level enough to get the shots you want? Why not use your GoPro to shoot other surfers from the water? The floaty grip is my go to for this style of shooting and a set of fins can really make life heaps easier.
If you're shooting in crowded spots regularly a surf helmet is also well worth the investment!
Hand Offs
Mix things up a bit with your surfer buddies by shooting from the water and then chucking/handing them the GoPro mid way through the wave!
Difficult to pull off but super fun and some great longer clips!
Have you taken your GoPro surfing?
Any awesome GoPro surfboards mounts or tips you're recommend?