Confused by the range of longboard fins available? Not sure which fin is going to suit your board best? Here's everything you need to know!
When it comes to choosing longboard fins there's plenty of choice out there – with a huge array of colours, shapes and sizes.
But when it comes to longboarding, choosing the correct longboard fin can make a huge difference to how your board surfs and your overall experience in the water, so making the right decision is important.
So to help you find the best longboard fin option for your style, wave type and longboard style here's my full longboard fin guide…
Longboard Fins Guide – Which Is Right For You?
D Fin
Ideal for those looking for a really traditional feel, or bigger boards
The original and the classic!
Before Mike Hynson introduced the "Red Fin" model and people like George Greenough started playing with with fish tail based fin templates, the D fin was the go.
And if you're looking for that original, and classic feel to your longboard it's certainly an interesting one to master.
With plenty of surface area the D Fin is for those who want total control – and if you're surfing long, down the line point breaks this is the perfect point and shoot fin.
However, with the large surface area comes a downside – and that comes in the form of turning.
D Fins are pretty slow on the turn and take a long of skills to manoeuvre easily, so this longboard fin template is best suited for bigger boards, or those who just want to throw it back to the old school!

Pivot Fin
Ideal for those looking for some serious nose time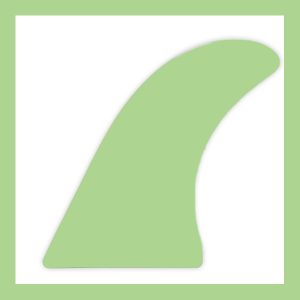 Want to really get to grips with cross stepping and nose riding? Well the Pivot fin is the one for you!
With plenty of base and length, the pivot fin holds beautiful on the nose and is the go to fin template for those looking to perfect a traditional longboard style.
The pivot fin allows easier turning than the D fin, but is still not going to be the most responsive unless you've perfected it!
Popular pivot fin options include the FCS Pivot Fin and FCS Timber Longboard Fin.
The perfect longboard fins to lock into a more traditional log and get those pinkies hanging ten!
Hatchet Fin
Ideal for a bit of balance, but old school vibes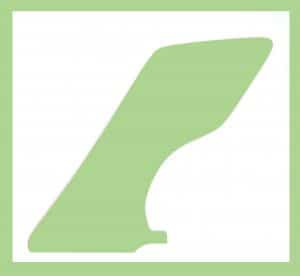 The hatchet fin has a pretty unique and instantly recognisable shape!
Developed back in 1965 by Dewer Weber, this style of fin has plenty of base, a thinned out mid section, finished off with a wider tip.
The result is a longboard fin which takes the best bits of the D Fin and the pivot fin – lots of hold for board walking and noseriding, but still offer a good amount of manoeuvrability – in fact it was original called the "turn fin" before later adopting the nickname of hatchet fin because of its shape.
There are a few options in the hatcher fin range like the FCS Hatchet, but the Dewey Weber Hatchet has to be the go to if you're looking at loading your log up with one of these.
Flex Fin
Ideal for those looking for plenty of performance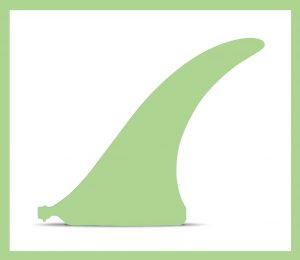 A template originally brought to life by George Greenough in the mid 1960's, the flex fin has a wide base, thinning out dramatically towards the tip of the fin, the flex fin offers plenty of responsiveness and manoeuvrability.
In fact these longboard fins were inspired by the fin outlines of tuna fish!
And for these reason the flex fin is one of the most popular longboard fins for performance longboards, allowing tighter, bigger turns and pushing the limits of your longboard, especially in bigger conditions too.
Options like the Futures Admiral, Futures Tiller or FCS Kelia Moniz are great examples of flex fins.
Tracker fins like the McTavish Tracker or the Captain Fin Co Christenson Tracker also fit into this category and are great options for shorter, more performance orientated mid lengths.
All Round Longboard Fin
Ideal for the best of everything!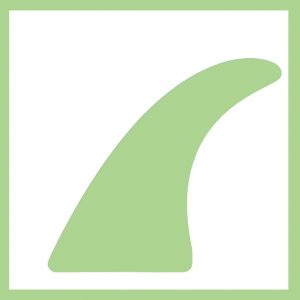 If you're not too sure what longboard fins are going to suit your style and board, then the all round fin type is always a solid shout.
As the name suggests its a great all round template – giving you a good mix of manoeuvrability and nose riding. Options like the FCS Connect range offer great value options in the all round category.
Enough width in the base and tip for nose riding, but thinned out enough to easily turn as well. This balance makes it the ideal option for those starting out longboarding or just a go to fin for a huge variety of boards and conditions.
If you're surfing a 2+1 setup, then the all round template is going to pair up really nicely with sidebites as well.
Longboard Fin Size
When it comes to choosing the perfect longboard fin size the general rule is 1 inch of fin, for every foot of board length – so a 9 foot board would pair up with 9″ fin, whereas a 10 foot board would require a 10″ fin.
However, the flex fin ranges can generally be sized up (as they have much less surface area) so a 9 foot board would then take a 10″ flex fin.
So for example my McTavish Rincon (which I surf with a McTavish Involvement fin, which is in the flex category) is a 7'10 board, but I use a 9″ fin, or in my 6'11 McTavish Tracker I've gone with a 8.5″ Tracker fin.
Some fin templates also offer half inch sizing (such as a 9.5″) so you can really dial it in.
Longboard Fin Positioning
Depending on the fin you've chosen, and the board you're riding, you might want to tweak the fin positioning to fine tune the characteristics.
Having the fin set more towards the nose of the board will loosen up the feel, whereas positioning it more towards the tail will give you more hold and control.
If in doubt, start at a neutral position at the centre of the fin box and then adjust to suit your requirements. You might also want to push the fin towards the tail (for more control) when the swell picks up, but this really comes down to personal preference.
For the most part, my longboards are usually set up in a neutral position, for the best of both!
What longboard fins do you have in your boards?
Any other models you'd recommend?